Press Release
A large no of industry experts and leaders from various sectors, companies, and recyclers came together to attend the "North Bengal Business Summit 2022" on Sunday 18th September 2022 in Malda, West Bengal.
In the Inaugural Session, Hon'ble Minister of State Smt. Sabina Yasmin, Ministry of Irrigation & Waterways and North Bengal Development, Gov't of West Bengal was invited as the chief guest and she did the Inaugural Address on How to create an organization in Bengal. As a geographical area and in terms of health, North Bengal is the most advanced. The state government will always help if there is a plastic recycling factory for employment through this global summit. Besides, we all have to think about how to bring organization by using the garment sector. Malda, Murshidabad is famous for its jute industry. Therefore, it will be very beneficial if the carpet industry can be made based on the jute industry. In the coming days, the West Bengal government plans to build 3 airports – Coochbehar, Balurghat, and Malda for better communication. Further, Shri Subrata Saha, Minister of State, Ministry of Food Processing & Horticulture, Gov't of West Bengal, explained his future plans for Malda. As Malda is known for Mango, so according to the regulations of the state government, special focus should be on how to bring development in food processing and how to reduce unemployment.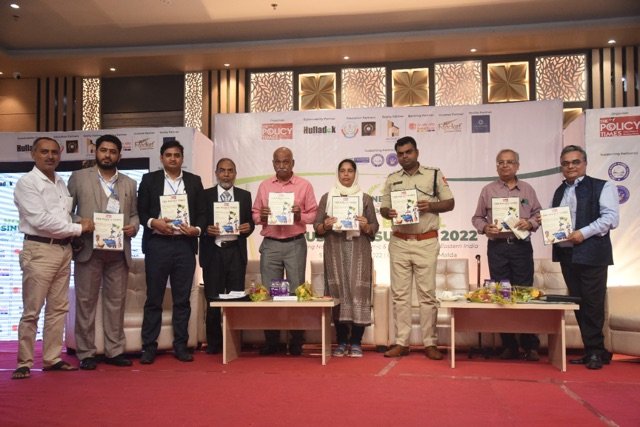 Janab Akhruzzaman, Minister of State Ministry of Power development, Gov't of West Bengal, expressed that power is essential in order to run any industry. North Bengal is a corridor to states like Nepal, Sikkim, Bhutan, and Assam, whereas North Bengal plays a vital role in helping to travel to these states. Thus, North Bengal proposes to be a perfect place for helping businesses. He also exclaimed that the entrepreneurs and the people who are willing to set up industries will be provided with power supplies from the power department. Shri Debabrata Mitra, IEDS Joint Director and Head Office, MSME- DFO, Kolkata conveyed keynote remarks that both the state and central government are working towards the empowerment of MSMEs. It is a boon in disguise that during their audial passing through Covid, they felt the need of digital business platforms to survive and grow. And post-Covid scenario, the digital platform is one of the pillars of today's business growth. An MSME entrepreneur does not work for his own survival but rather he works for the chain of workers and people associated.
Our next spokesperson, Prof. Ujjwal Chowdhury, Strategic Consultant, Adams & Daffodil International University shared his view on Big businesses that are dependent on certain criteria whereas small businesses begin with localized markets, localized human resources, and local raw materials. So the probability of survival in the crisis of small businesses is higher. Azizur Rahman, Silk Industrialist & Founder Director, Tarbiyah Cambridge International School expressed their views and is further planning to merge education with industrialization and also they have started the initiative to work on this idea to make it possible. There is a need to develop brotherhood within the industries in order to overcome all the problems faced by the industrialists.
North Bengal Business Summit 2022 is the platform dedicated to taking opportunities to overcome all problems and develop new industry-based initiatives. Certain industries lead to health hazards which is a serious concern in consideration of the health statistics and if the industries are able to overcome these health hazards, it will lead towards a positive impact on the overall growth of the industries. The industries should be set up in a healthy atmosphere. Kaliyachokh is a textile hub in Malda where 100 trucks carry raw materials of textiles from Tamil Nadu and Ludhiana. The raw materials are manufactured in Malda and exported to various parts, Therefore, the network established here will help in developing a big textile hub by merging Murshidabad and Dinajpur. Transportation, logistics, and roads are a vital part of industrialization, thus, these three essentials need to be focused on for the overall development of industries. A request has been made to establish airport facilities in Malda for people to travel more frequently for business and other purposes.
Kazi Iftaquer Hoosain, President, of the Bangladesh garments buying house association shared his views on building the economy through local work in Bangladesh. In today's era, social business is very important along with micro business. At present, the total export amount from the silk industry in Bangladesh is 45 billion dollars. Collaboration and communication are the essential ingredients to be a successful business leader. Azharuddin Khan, DSP, Malda said that Malda needs development. This is followed by another session addressed by Shri Rajesh Bhattacharya, Asstt. Director I/c, Br. MSME-DFO, Shri Tirthankar Biswas, DDM, NABARD, Malda, Shri Manabendra Mandal, District Industries Centre, Malda, Shri SC. Sarkar, District Industries Centre, Uttar Dinajpur, GoWB, Shri Tapas Kumar Roy, District Industries Centre, Dakshin Dinajpur, Govt of West Bengal, Ms. Kritika Sadhwani, Exec. VP – Business Development, Hulladek Recycling Pvt. Ltd, Yatendra Kumar, IRSEE, Divisional Railway Manager(Malda), Eastern Railway, Kumar Prasun, Sr. Branch Manager, Bank of Baroda, Malda.
And the last session was delivered by Shri Krishnendu Narayan Choudhary, Former Cabinet Minister of Tourism and Food Processing, West Bengal exclaimed that people actually visit Malda and other surrounding districts but the tourist spots need to get rejuvenated with new small cottages so that people can reside before traveling to other parts and the idea will promote tourism. A huge amount of mangoes are exported to Hyderabad, Delhi, and Bombay to make by-products of mangoes. The manufacturers are also introducing new products by combining mangoes with other fruits. Other eminent speakers Janab Jahangir Biswas, President, the Oriental Chamber Of Commerce, and Salman Ahmed, Co-Founder of The Policy Times addressed their views.
The Conference was organized in collaboration with a premier school of North Bengal – BES-An-Noor Model School, the most trusted foreign medical education consulting agency – Checkmate Career, North Eastern English Academy, and Murshidabad premier school – Crescent Academy as a supporting partner, textile partner India's leading silk industry Starlink, our financial partner Bank of Baroda, Rocket Agarbatti as an incense partner, realty partner Aponjon Housing Society, our education partner Tarbiyah Cambridge International School and west Bengal leading recycler Hulladek Recycling as a sustainable partner.
Some of the major suggestions that came out of the Summit are the following –
Industry vows to support Govt. to operationalize three proposed airports in North Bengal (Malda, Balurghat, and Cooch Behar). Didi, North Bengal is losing thousands of crores worth of business and investment for not having airport links. We understand that you have applied for the airports and a high-level delegation recently met the Civil Aviation Minister.
To support, Industry leaders will also appeal to DGCA for further action on your request.
As business and policy media, The Policy Times will continue inviting businesses and investors from India and abroad to make Bengal India's Business capital and do business and invest in Bengal in the following sectors and others – Garments manufacturing, healthcare, recycling, food processing Skill, and tourism, etc.
Pro-development and business-friendly: Local and regional Industry associations in North Bengal are acting like labor or trade unions of the communist era and trying to block business and investments. And so are local government officials. Single-window clearance is a must. And regular training and motivational sessions are needed for them to be pro-development and business-friendly.
To further our contribution to Bengal's Development, in the next 12 months, The Policy Times proposes to organize –
Healthcare Summit & Expo 2022
Tourism-Garments Summit & Expo 2022
Recyclers Summit & Expo 2022
Fisheries-Food processing Summit & Expo 2022
The Policy Times (www.thepolicytimes.com) is a Policy & Business Media, and a strategic and practical Alliance of Policy and Business experts for policy and business connect leading to prosperity through news and article writings, practical networking, Events, Business intelligence, research & policy advocacy. We have organized 300+ business meets across India and taken part to promote many government policies such as plastic, metal scrap, and tire recycling policy, National Education Policy (NEP) amongst many others.
The Policy Times (www.thepolicytime is established by Akram Hoque, Founding Editor.
Continue Reading: https://www.startupberita.com/events/startup-india-innovation-summit-2023/